Description
The Pyronix Euro 46 alarm kit is a convenient bundle which delivers the cloud and app-connected EURO-46 V10 small metal hybrid system, along with a range of devices for Grade 2 residential and commercial property security. The alarm system can be further expanded with a wide range of sensors and detectors for physical and environmental detection.
At the core of the system is the Grade 2 Euro 46 small metal alarm panel which feature 8 wired zone inputs, but can be expanded to support wireless devices with a series of communications modules (not included).
The kit also includes and LCD keypad with a built-in prox reader, a Deltabell-E outdoor sounder with white lid and red backplate, a Twin Alert internal sounder, and three MEQ Blue PIR detectors.
What's Included in the Pyronix Euro46 Kit 1?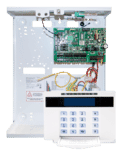 1 x Euro 46 Wired Alarm Panel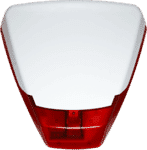 1 x Deltabell-E with white cover
1 x Twin Alert Internal Sounder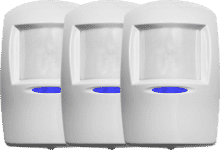 3 x MEQ Blue PIR Detectors
The Pyronix Euro 46 is an ideal starting point for small to medium wired alarm systems and can be expanded by using a host of wired and wireless devices. Whatever the communication need, the EURO 46 V10 gives you the option. Simply purchase the communicator you want and fit it into the panel.
Euro 46 Wires Alarm Panel
The Pyronix Euro 46 V10 S Hybrid Alarm is a wired panel with a smaller enclosure incorporating 8 wired zone inputs and wired/wireless expansion options. It is connected through a cloud server, so there is no need to set up static IP addresses or configure the network connection on site; instead, you simply set up an account on PyronixCloud.com.
Deltabell-E Outdoor Sounder
The Deltabell-E is a 104 dB outdoor sounder with low power strobe LED's. The auto-levelling mechanism uses rotating guide holes and a spirit level to facilitate the simple and easy positioning of the sounder. Tamper protection ensures the highest levels of security against accidental or malicious tampering with the system. The sounder is supplied with a white lid and red backplate.
Twin Alert Internal Sounder
The Twin Alert is a 100 dB internal sounder which also acts as a speaker that mimics the keypad tones and the sounds associated with the setting and unsetting of a system. It features tamper protection and engineer's hold off, allowing you to maintain your system without any unwanted alarms.
MEQ Blue PIR Detectors
The Pyronix FPMEQBL perfectly combines advanced performance with cost efficiency by offering advanced detection accuracy at an affordable price. The FPMEQBL has a high accuracy dual element pyro-electric sensor with a detection area of 12 metres which coupled with their patented IFT technology and automatic temperature compensation makes this one of the most accurate budget PIR's available.
Features:
1x EURO46/S-UK (supplied with a EURO-064 keypad)
1x Deltabell-E with white cover and red backplate
1x Twin Alert
3x MEQ Blue
Hybrid 76 zone control panel
Fully menu-driven programming
Connect with the vast range of communication options
Remote maintenance with Pyronix InSite UDL software
Grade 2 & 3 security with a fully compliant app
Connect from anywhere with the ProControl+ App
No on-site IT configuration
Supplied with a EUR-064 keypad. Product shown with optional chrome keypad