Description
The Hikvision IDS-7332HQHI-M4/S is a hybrid network NVR with 32 channels that can record from analogue cameras up to 4MP, and 16 IP channels that can record from network cameras up to 6mp. A further 32 IP channels can be created using the enhanced IP mode, making a maximum of 48 channels.
The IDS-7332HQHI-M4/S also features intelligent AI and can provided Acusense technology to non AcuSense cameras. The clever AcuSense AI will only alert the user when it recognises a human form and will eliminate false alarms caused by animals or other non-flag events.
Deep Learning with AcuSense Technology
The most common concerns in perimeter protection are trespassing and vehicle break-ins. AcuSense helps you to focus on these events in two ways
Alarm will only trigger when the preset intrusion type takes place
Related videos are sorted by categories for easier search
Hikvision's AcuSense technology provides accurate results and reduces false alarms by using deep learning algorithms to distinguishes people and vehicles from other moving objects.
The device will only trigger an alarm when the preset intrusion type (human or vehicle) takes place, and videos related to alarm events are sorted into human and vehicle categories for easier footage searches.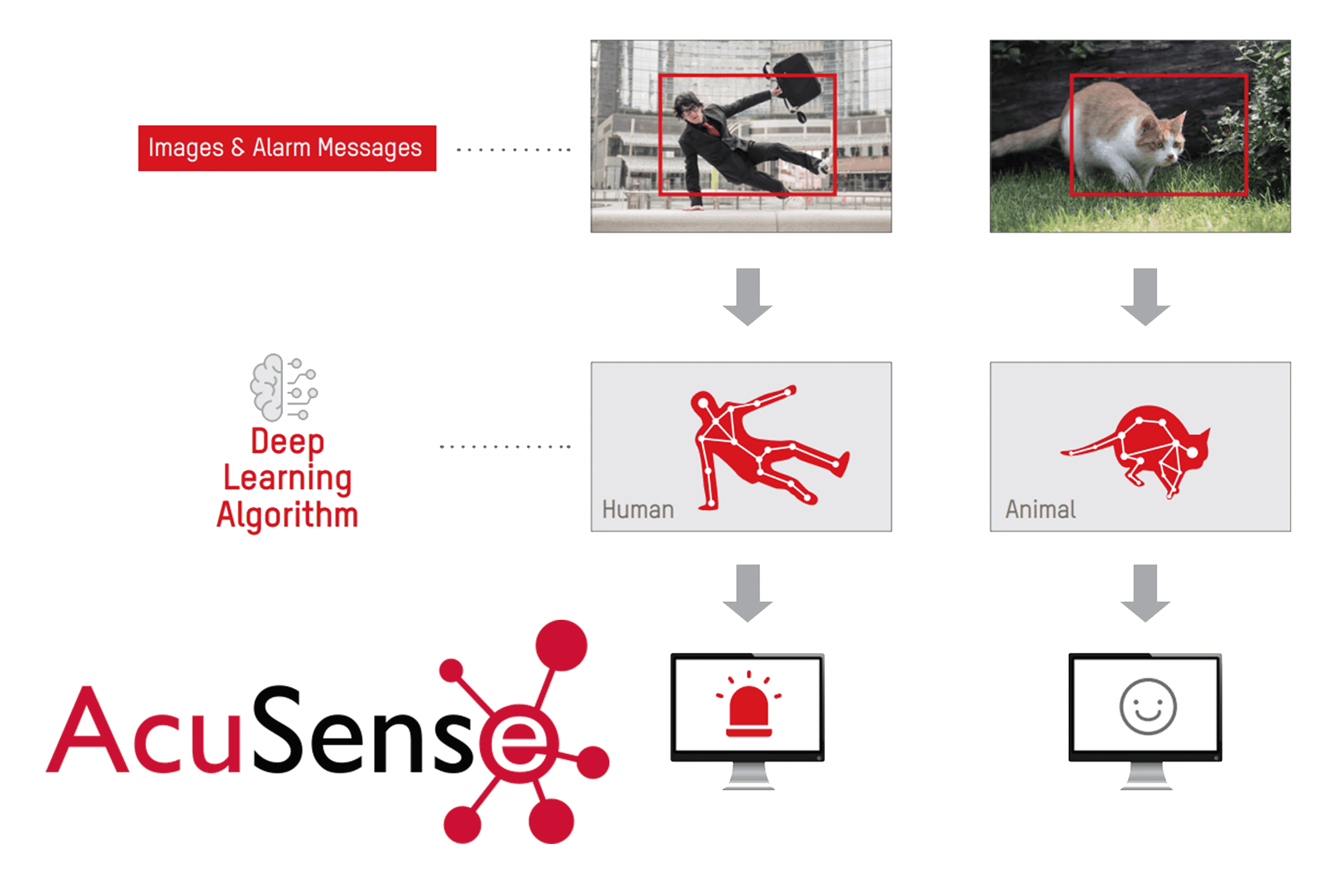 Interface

| Number | Description | Number | Description |
| --- | --- | --- | --- |
| 1 | VIDEO IN | 9 | VGA interface |
| 2 | Line in | 10 | LAN1 and LAN2 interfaces |
| 3 | Audio out | 11 | USB interface |
| 4 | Video out | 12 | eSATA interface |
| 5 | Video in | 13 | GND |
| 6 | Alarm out, alarm in, RS-485, and keyboard | 14 | Power switch |
| 7 | RS-232 interface | 15 | Power supply |
| 8 | HDMI1 and HDMI2 interfaces | | |
Features:
Up to 32-ch analog camera inputs and 4 SATA interfaces
H.265 Pro+/H.265 Pro/H.265/H.264+/H.264 video compression
Up to 1080p@15 fps encoding capability
HDTVI/AHD/CVI/CVBS/IP video inputs
Up to 48-ch network camera inputs
POS triggered recording and POS information overlay
H.265 Pro+ video compression improves encoding efficiency, and reduces data storage costs
Full channel recording at up to 4 MP Lite resolution
4 SATA interfaces and 1 eSATA interface
16-ch 1080p@30 fps decoding capability
Smart search for efficient playback
2 self-adaptive 10/100/1000 Mbps Ethernet interfaces
Hik-Connect & DDNS (Dynamic Domain Name System) for easy network management
Output bandwidth limit configurable