Description
The Hikvision DS-PWA64-KIT1-WE is a wireless alarm bundle that provides everything you need to protect your home from intrusion. Part of Hikvisions new AX PRO wireless alarm series, the DS-PWA64-KIT1-WE comprises of…
1 x DS-PWA64-L-WE wireless control panel
2 x DS-PKF1-WE key fobs
2 x DS-PDP15P-EG2-WE wireless PIR detectors
1 x DS-PDMC-EG2-WE magnetic window/door contact
1 x DS-PS1-E-WE wireless external sounder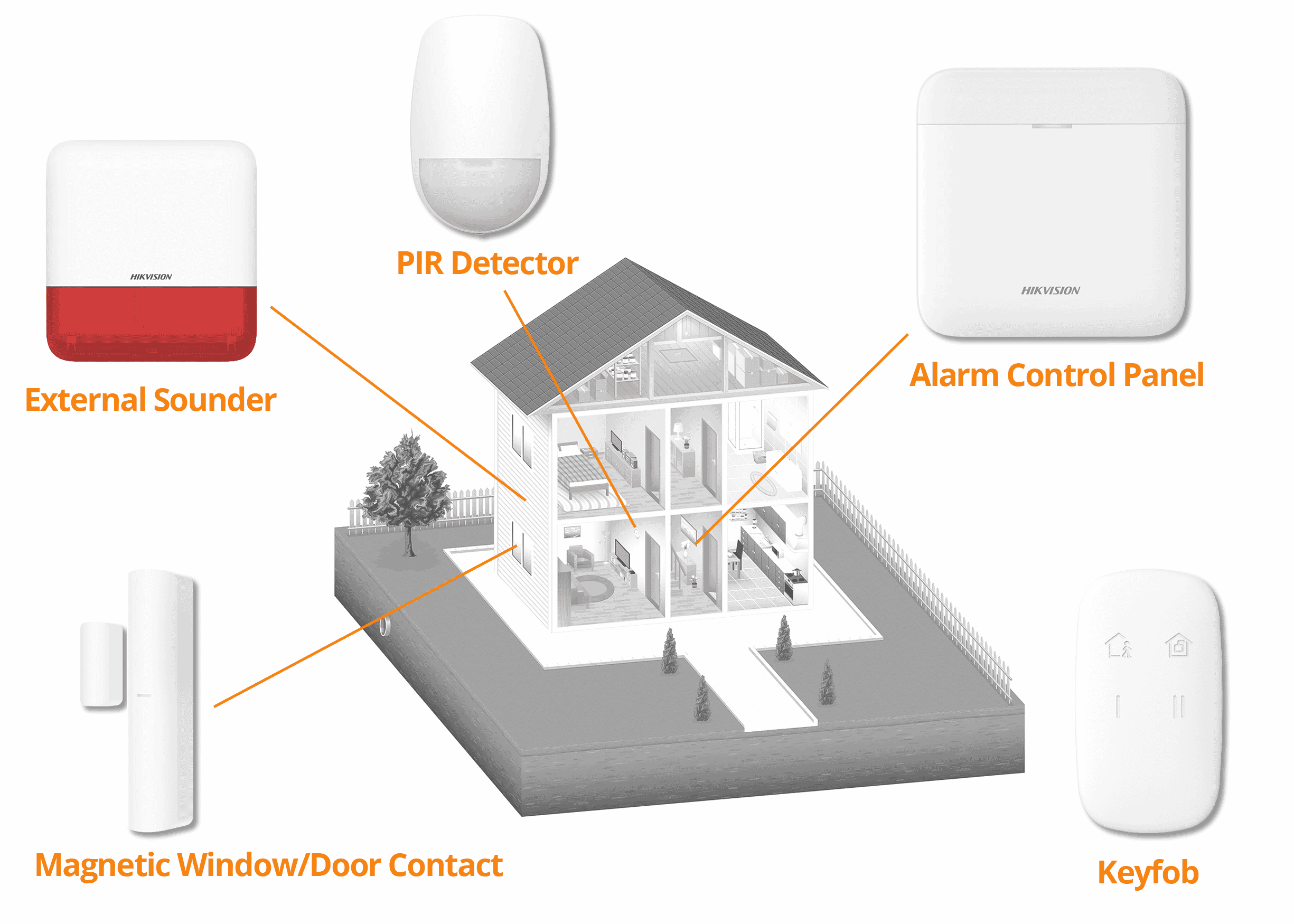 DS-PWA64-L-WE Wireless Control Panel
The DS-PWA64-L-WE Wireless Control Panel features Wi-Fi, TCP/IP and GPRS communication methods, can connect up to 64 wireless zones, 32 wireless keyfobs, 2 wireless repeaters, 4 wireless sounders, 8 tag readers & keypads and a Hikvision PIR Cam, and can store up to 5000 event logs.
** No on board tag reader**
DS-PKF1-WE Key fob
The Hikvision DS-PKF1-WE is a wireless key fob designed to arm and disarm the AX PRO alarm system. Featuring stay/away arming and disarming, tamper proof and a PCB protected battery, the DS-PKF1-WE is easy to configure and benefits from frequency hopping which rapidly changes the frequency used which greatly improves the reliability of the signal and prevents jamming.
DS-PDP15P-EG2-WE Wireless PIR Detector
The Hikvision DS-PDP15P-EG2-WE is a fully supervised, 2 way wireless PIR detector that features motion detection and tamper protection. It is capable of monitoring a 15 metre radius, ignoring animals and recognising human forms and features frequency hopping which rapidly changes the frequency used. This greatly improves the reliability of the signal and prevents jamming.
DS-PDMC-EG2-WE Magnetic Window/door Contact
The Hikvision DS-PDMCS-EG2-WE is a wireless opening detector that can be fitted to a door or window and will notify in the event of a room intrusion. The unobtrusive design is easily fitted to any window or door frame and once the 2 parts are separated the alarm system will sound.
DS-PS1-E-WE wireless external sounder
The Hikvision DS-PS1-E-WE is a wireless external siren that is designed to be used with the AX PRO alarm system. It features Tri-X wireless protocol, multiple enrolment methods, two-way wireless communication and strobe light indication. The siren sounds at 110 dB to and can be set at 3 distinct sounds to denote fire alarm, panic alarm and intruder alarm.
Hikvision AX PRO
The Hikvision AX PRO is a new high quality wireless alarm and video system for both residential and commercial applications that is configured and controlled through the Hik-Connect smart app.
The AX PRO series has a wireless range of up to 2km and can be adapted and configured to any installation scenario with a range of PIR detectors, wireless keyfobs, panic buttons and sirens. The AX PRO series is also compatible with Hikvision CCTV cameras and the whole system can be viewed and controlled remotely through the smartphone app.
Features:
Wireless alarm kit comprising of a wireless L level control panel, 2 PIR Detectors, 2 Key fobs, an external siren and a magnetic window/door contact
Wi-Fi, TCP/IP and GPRS communication methods
can connect up to 64 wireless zones, 32 wireless key fobs, 2 wireless repeaters, 4 wireless sounders, 8 tag readers & keypads and PIR CAM
Stores up to 5000 event logs
New generation wireless protocol: Tri-X
Long RF transmission distance
Two-way communication with AES-128 encryption
Voice prompt
Configuration via Web client, mobile client, and Convergence Cloud
Hik-Connect and Hik-ProConnect configuration depends on the user access level
Pushes alarm notification via messages or phone calls
Views life videos from Hik-Connect
Alarm video clips via emails and APP
Uploads alarm reports to ARC
Supports LED indicator to indicates system status
4520 mAh lithium backup battery
SIA-DC09 protocol, and supports both Contact ID and SIA data format