Description
The Hikvision DS-PS1-I-WE is an indoor alarm sounder designed to be used with the AX PRO Hikvision wireless alarm system. It features 868 Mhz wireless communication and Tri-X wireless protocol to ensure a fast and secure signal at all times.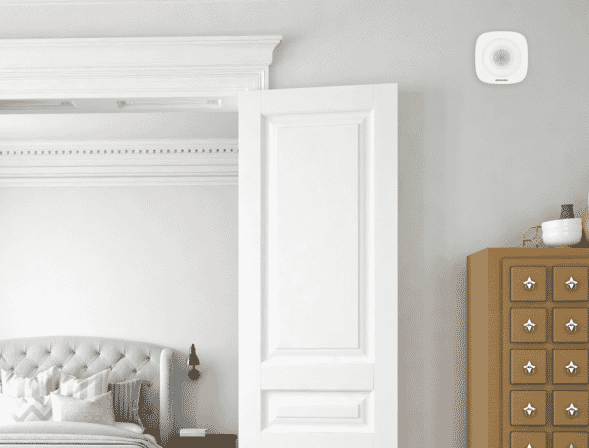 Unlike most outdoor alarm sounders that are designed as a visual deterrent, the DS-PS1-I-WE features a discreet design that blends in with the aesthetics of your home. Once the alarm is activated the 90 – 110 dB sounder is accompanied with a flashing red or blue LED indicator.
As with all the AX PRO components, the DS-PS1-I-WE is fully configurable and controllable through the Hik-Connect app via a tablet or mobile device, making installation quick and easy.
The DS-PS1-I-WE also features front and rear tamper proof, 3 types of alarm sound (fire alarm, panic alarm and intrusion alarm), a 3 year battery life and multiple enrolment methods. AES-128 encryption provides additional security and frequency hopping rapidly changes the signal frequency, greatly improving the reliability of the signal and prevents jamming.
Features:
868 MHz two-way wireless communication
Configurable arming/disarming prompt sound and LED indicator
3 years battery life span (triggered every two weeks and alerting 90 s for each triggering)
AES-128 encryption
Front and rear panel tamper-proof
3 kinds of alarm sounds: fire alarm, panic alarm, and intrusion alarm
Buzzer Decibel: 90 to 110 dB
Fully remote configurable through App
Multiple enrolment methods and easy installation design
Frequency hopping against jamming for reliable transmission
SPECIFICATIONS
Electrical characteristics
Operation humidity
10% to 90% (no condensing)
Operation temperature
-10 °C to 55 °C (14 °F to 131 °F)
Battery life span
Up to 3 years (standby time)
Wireless transmission
RF frequency
868 MHz
RF modulation
2GFSK
RF distance
1.6 km (open area)
General
Dimension (WxHxD)
88 mm × 88 mm × 32 mm (3.46″ ×3.46″ × 1.26″)
Shell material
PC+ABS
Colour
Blue/Red LED flash
Weight
169.5 g (6.0 oz)