Description
The Hikvision DS-PDP15P-EG2-WE is a fully supervised, 2 way wireless PIR detector that is designed to be used with the Hikvision AX PRO wireless alarm system and can be fully controlled and configured through the Hik-Connect app.
Featuring motion detection and tamper protection, the DS-PDP15P-EG2-WE can monitor a 15-metre radius, ignoring animals and recognising human forms. The onboard PCB protected battery can operate for up to 5 years and will notify you when it needs replacing.
The DS-PDP15P-EG2-WE uses Tri-X, a new generation of wireless protocol, which ensures a strong and steady network at all times, and the two-way communication is AES-128 encrypted. Frequency hopping rapidly switches transmitting radio signals among several frequency channels for reliable transmission and makes it much more difficult to jam the signal.
Lens Diagram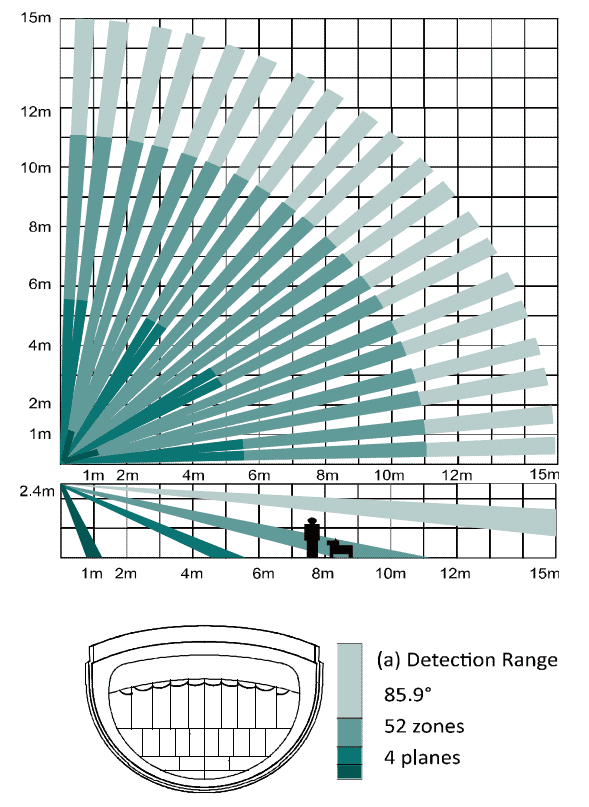 Features:
SEC (Smart Environmental Control) – Advanced digital signal processing and 3D optics
Fully remote configurable through App
Multiple enrolment method and easy installation design
Easily replaceable battery with PCB protected
Frequency hopping against jamming for reliable transmission