Description
The Hikvision DS-2CD2347G2-LSU/SL is a high resolution 4MP turret network camera with a 2.8mm fixed lens and AcuSense technology to greatly reduce the number of false alarm notifications received. In addition, an integrated strobe light and audio alarm provides a powerful deterrent against would-be intruders.
ColorVu technology provides vibrant full colour images even in ultra-low light conditions and PoE (Power over Ethernet) eliminates the need for a separate power cable, making installation quick and easy. The DS-2CD2347G2-LSU/SL also features a built-in microphone and speaker to provide additional security with real time audio.
Available in white or grey.
Deep Learning with AcuSense Technology

The most common concerns in perimeter protection are trespassing and vehicle break-ins. AcuSense helps you to focus on these events in two ways
Alarm will only trigger when the preset intrusion type takes place
Related videos are sorted by categories for easier search
Users can focus on alarms triggered by humans and vehicles while false alarms triggered by small animals or other irrelevant objects are vastly reduced

Hikvision Live-Guard Solution
Live-Guard from Hikvision is a new security solution that runs alongside the AcuSense technology to provide increased protection and flexibility from your CCTV camera system. In addition to the intelligent algorithms provided by the AcuSense AI, Live-Guard cameras feature an active strobe light which prompts the intruder to look up at the camera and increasing the chances of getting a view of their face. At the same time an audio warning will sound, either a loud siren or a pre-recorded message, warning the intruder that they have been spotted and alerting others of their presence.
The Hik-Connect mobile phone app can be used alongside Live-Guard cameras to receive alert notifications and to arm and disarm the system. They can also be included to an AX PRO alarm system and managed through the central unified APP.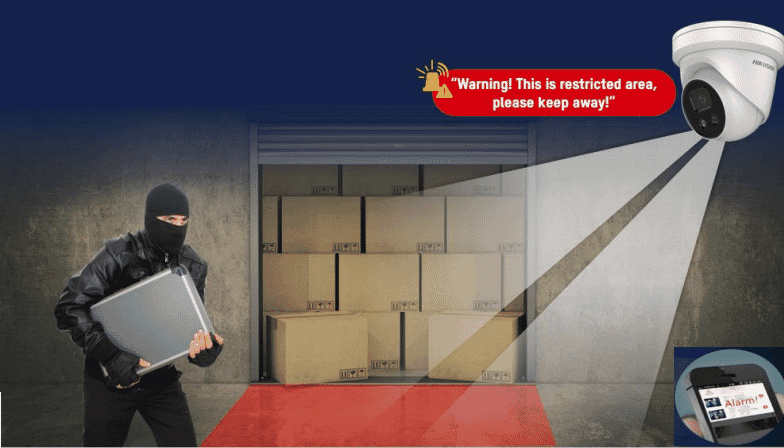 27/7 Colour Imaging with ColorVu Technology
Colorvu is the name for Hikvision's ultra-low light technology. Colorvu technology is designed to deliver clear colour images in scenes with almost no light without relying on infrared. Colorvu works by combining large image sensors with advanced image processing which in independent tests has proven to deliver the best images in scenes with very little light.
Colorvu cameras often feature a built-in white light that can provide illumination in complete darkness which allows Colorvu cameras to deliver full colour images 24 hours a day regardless of the lighting condition.
Having colour images helps with subject identification, number plates capture and provides accurate context which is lost on conventional cameras.

Built in Speaker & Microphone
The DS-2CD2347G2-LSU/SL features a speaker and high-quality noise cancelling microphone which provides an audio feed alongside the video and allows a 2-way conversation over the camera system.
This can be used to talk with delivery drivers, guest arriving at the property or any other scenario where communication with someone outside the property is required. It can also be used as a powerful deterrent to would-be intruders to let them know they have been seen and that the property is under surveillance.
Features:
High quality imaging with 4 MP resolution
Efficient H.265+ compression technology
Clear imaging against strong backlight due to 130 dB WDR technology
Focus on human and vehicle targets classification based on deep learning
24/7 colorful imaging
Active strobe light and audio alarm to warn intruders off
Provide real-time security via built-in two-way audio
Audio and alarm interface available
Water and dust resistant (IP67)